Celebrity baby showers are just like baby showers held by us regular human beings – except they're in a more expensive place, with decor, food and activities planned for and attended by more expensive, glamourous people. (Not necessarily needed though)
We check out these few celebrity baby showers that wow us with their cuteness, creativity or just over-the-top glam factor.
1. Candice Swanepoel
This year, Victoria's Secret model Candice Swanepoel announced she was pregnant. Expecting in November this year, Candice posed in an off-the-shoulder white HATCH dress with flounced neckline cradling her bump in front of a table laden with goodies and plush animal toys.
Matching her safari-themed baby shower, she revealed her son's name, Anaca in light blue capital letters on the wall and dotted the wall with tiny animal motifs of lions, zebras and giraffes.

The light blue 2 tier cake cutely matched her safari theme.
2. Sheryl Crow
Sheryl's colour scheme for her baby shower was earthly colours like red, blue and brown. But aside from the warm and earthy colours, the party was actually very eco-friendly, which sets it apart from other baby showers that center on creativity and fun.
Each table setting at Sheryl Crow's baby shower consisted of a display of wheat grass with a cute planter paper decoration for the guests to take home. The planter paper is a fun and earth friendly way to give your guests a poem to take home and plant. Once planted in the ground, flowers bloom.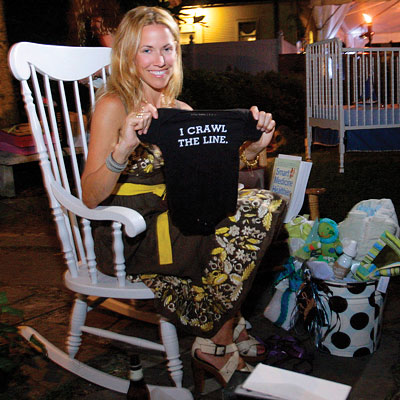 3. Blake Lively
Before we talk about anything else, can we take a moment to gush over pregnant Blake Lively and how stunning she looks?
While Blake Lively keeps her personal life very privately, and more than four months after news broke that Blake Lively was expecting her second child with husband Ryan Reynolds, a source confirms that the celebration was held at the Bedford Post Inn Saturday afternoon in New York. Guests started arriving around 11 a.m. local time and enjoyed the 90-minute gathering in the heart of Westchester County.
Warm and friendship-filled, cosy and comfortable, congratulations Blake! That's all a baby shower needs – good food, homely company and happy chatter!
4. Christina Aguilera

To set Christina apart from all the fun and sweet baby showers, her baby shower featured a cake that was an edible sculpture of a naked Christina laying on her back with legs splayed, and a baby's head poking out of her lady bits. The inscription read, "Push Xtina Push!"
5. Drew Barrymore
Rounding up  the celebrity baby showers, for her baby shower, Drew enjoyed an afternoon out in the sun with her close friends. Among the A-list mix were famous friends Reese Witherspoon, Cameron Diaz, Gwyneth Paltrow, and, of course, husband Will Kopelman.
With lots of food and friends, Drew Barrymore had herself a wonderful baby shower indeed.
Thinking about planning  a baby shower? Maybe you want a party as loud and adorable as Candice Swanepoel's, maybe you want something eco-friendly like Sheryl Crow's, maybe you want something personal and close like Blake Lively's, or a wild party like Christina's, or a simple one like Drew's, if this post gave you inspiration for your baby shower, leave a comment below!