If you're having a baby shower, costs can easily go up into hundreds, if not thousands, what with renting a venue, catering food and entertainment! Save some costs on your decorations with our ideas!
1. Do Your Own Centerpieces
Add jewel-toned fruit to a white bowl with sensuous lines for an easy arrangement. Look for fruits of differing sizes and shapes but with similar coloring, as with these plums and pomegranates. Best, you can eat them during or after the party!
Or some tissue paper flowers like so:

Find out how to do it here!
If you are throwing a rainbow party for your baby shower, Little Inspirations has a whole post on baby shower decoration ideas!
Some Mod Podge foam letters are a great way to decorate the table as well. Try spelling out the baby's name! The paint dries pretty quickly and you can also add your own designs, so win-win and you spent little or no money!
2. Balloons
Floral Balloon Bouquets are a pretty way to decorate your baby shower! We got our ideas here.
Mini Balloon Placecards
They add a pop of colour and a dash of fun to your guests as they settle down to eat! Find out how to do it here. 
Gold Brushed Balloons add a touch  of class to your baby shower. All you need is some paint and some upward strokes and flourishes, some helium, and your guests will be wowed by the beauty and your creativity! You can add some ribbons or tassels to make it prettier!
3. Wall Decals
Wall decals are a total game changer for party decorations. You can find wall decals for every space, style and budget and if you'd like, long after the party is over, you can leave the decals up on the wall where your party was!
To welcome a baby girl, this elf girl cycling on a pretty flower bicycle makes for a great mural! And it'd only set you back by $4.99 USD.
Of course, if you're having an animal-themed party, this would be more suitable instead.
For $6.29 USD too!
4. Others
To match your budget, this place card idea is something to keep in mind for your baby shower decoration ideas – some coloured paper in the shape of a butterfly or any other cute figure (all available at Popular, of course) with your guest's name written on it and stuck in between the prongs of a fork.
If you're having an outdoors party, why hesitate to use flower pots as utensil holders?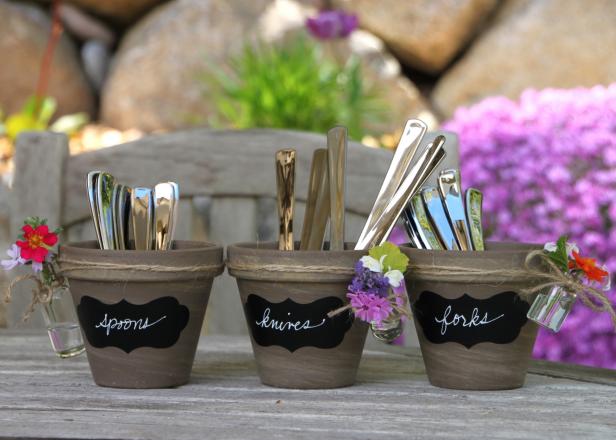 Diaper Cakes make for great centerpieces as well.
While a little over the budget of $50, just imagine these mini cakes for $69 sitting prettily on your table! Not only are they adorable to look at, their practicality means they can be used after the party for the baby in a few months' time.
While you can place a budget on baby shower decorations, there's no budget on creativity or fun, so let loose and don't be too stressed!
For everything else, there's Diaper Cakes.