There are many ways to celebrate baby showers. Some opt to have a grand celebration, others opt for quieter, more homely affairs. Some opt for dessert tables with large, customised cakes, others prefer a home baked cake and still others prefer cupcakes and lighter refreshments.
Wondering what baby shower cupcakes to serve to your hungry guests? Here you go.

The retro vibe is strong with these cupcakes, what with a simple, traditional design and a vintage cupcake stand to match?

These make cheery cupcakes for a baby shower for a baby girl! . Orange cupcakes filled with orange curd and topped with sweet cloud of Strawberry Buttercream Frosting will make your mouth water. Get your recipe here!
Again, for the baby girls, a pink velvet cupcake seems apt!
If you're using cream cheese frosting, the tangy cream cheese frosting breaks down the sweetness a little bit and so your guests will find it a perfect combination!
Get the recipe here.
Another fun way to add decor to your cupcakes is through the use of cupcake toppings, which can be purchased easily, or even hand made.

For one, these cupcake toppers can be purchased on Etsy.

Because you know the baby boy is going to be a high flyer in the sky someday, try these toppers too!
Get it here.
If you're expecting twins, then it's a double rainbow of joy, isn't it?
Not surprisingly, these rainbow funfetti cakes, cupcakes and cookies are extremely popular with kids and a lot of people have fond memories of enjoying them at parties. Get the recipe here.

Make your party a high stepping one with these baby shower cupcakes that feature tiny footprints!
You can buy these feet icing toppings from Etsy as well.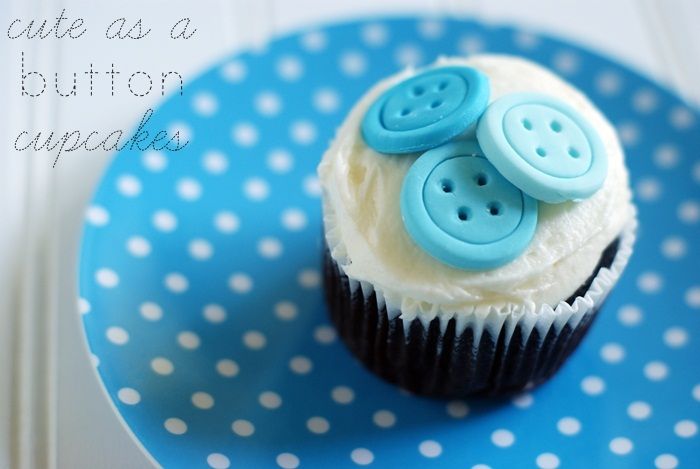 These adorable cupcakes topped with fondant buttons would be a good option for an experienced baker to bring to the shower. The recipe notes that the buttons take time to make and dry, so plan ahead. Hopefully your efforts will be rewarded with all the "oos" and "ahhs" you'll get after serving cupcakes with edible, mini buttons.  Get the recipe here.
With so many options to choose from, there's no need to serve pink or blue cupcakes to be gender-friendly. If you still aren't sure what type of cupcakes to make, ask the mama-to-be what her favorite type of cake is and go with that. She's the VIP, after all.